Bookings are made by phone – please call or text 07949 623402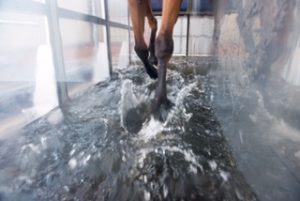 •New purpose built spacious barn with natural light.
•All staff trained by German vet and expert in hydrotherapy, Dr Matthias Baumann.
•Latest model (2017)- only Activo-med water treadmill that offers an incline option as well, which provides the horse with extra fitness options.
•Strong bio-security policy, horses legs disinfected pre and post sessions.
•The water treadmill is sunk into the ground for ease of experience.
•Fees affordable to build into regular training programme.
•No nappies restricting the horses natural movement.
•There are NO chemicals needed to keep water clean due to the efficiency of the filtration system.
Each horse is treated as an individual and a treatment/exercise plan is tailor made accordingly. One of  most important things is the horse enjoys the experience, most of them do accept working on it with minimal problems. The treadmill gives them a lot of confidence in their own ability to carry themselves and engage their core and work independently without a rider asking them to do so.
The treadmill is used to improve core strength, muscle development and stride length and is an ideal compliment as part of regular training and is suitable for all horses and ponies whatever their abilities.
The water treadmill is also used for horses coming back from injury (including tendons/ligaments injuries, fractures and kissing spine) being a completely safe and controlled environment. The horse works at a controlled speed in water which provides a blend of resistance, buoyancy, reduced concussion and cold water therapy.
Major benefits for all horses, include-
•Natural exercise medium with therapeutic elements.
•Creates a gentle resistance that helps to strengthen the horse's body.
•Increasing resistance builds strength and stamina.
•Has a cooling effect for muscles, tendons, ligaments and joints.
•Improves straightness.
•Gait/biomechanical modification and improvement.
•Natural properties of water and hydrokinetic exercise in a controlled environment.
•Substantial reduction in weight-bearing exercise.
•Controlled supervised exercise for rehabilitation and aerobic activity.
Please call us on 07949 623402 for any further details.